Pleasure in a romantic atmosphere
Wine bar with evening restaurant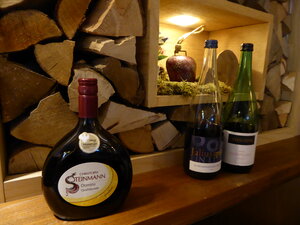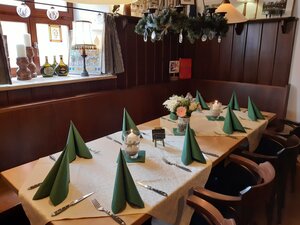 Gastro is closed from June 12th to June 27th.
In our rustic wine tavern with evening restaurant, wines from selected renowned wineries are offered as Schoppen or in Bocksbeutel from Franconia. In addition, you will find exquisite wines from other regions on our wine list, which is probably the richest in Dinkelsbühl. Of course, we also offer regional pilsner and cellar beer on tap, in addition to other beverages. In addition, delicious dishes, lovingly prepared, are served.
We are also happy to reserve our wine bar for festive occasions (e.g. family celebrations, weddings, anniversaries). Up to 36 seats are available there. This offers the possibility to celebrate in an individually designed setting. It becomes really romantic when the night watchman stops by the hotel on many an evening, sings a song and sounds his horn. A glass of wine as a thank you from the house then strengthens him for his further nocturnal rounds.
Bar with breakfast room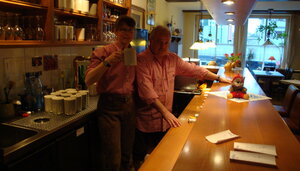 The hotel's own bar offers both hotel guests and locals the opportunity for a good conversation.
In spring, strong beer is freshly tapped from the barrel here during the strong beer evening, accompanied by hearty dishes.
In the morning there is a rich breakfast buffet in the back area.