Haus Appelberg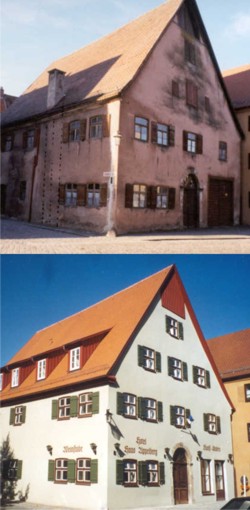 A house from the 15th century
The once quite dilapidated farmhouse, whose origins date back to the 15th century, was lovingly restored in 2001 by the parents - Arthur and Hildegard Appelberg. A beginning was made.
In 2006 we - Matthias Osterhold and Hildegard Appelberg-Osterhold- took over the management. The family suite was added and the parlor, once intended for a glass of wine and lard bread, became an evening restaurant with a wine bar, where, in addition to good wines, numerous delicious dishes as well as regional pilsner and cellar beer on tap are offered.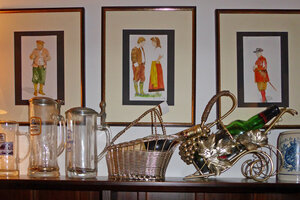 Pictures of the artist Arthur Appelberg
Numerous paintings by the father, the artist Arthur Appelberg, give our hotel a very personal touch.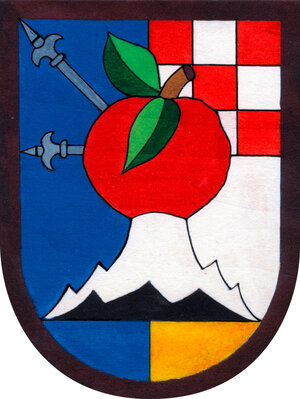 The coat of arms "Haus Appelberg"
Our coat of arms was also designed by Arthur Appelberg:
It shows in the center, well recognizable, apple and mountain. Red-white stands for Franconia.
The colors blue and yellow tell a very special town story:
They stand for the Swedes, who besieged the town of Dinkelsbühl in the 30-year war, but ultimately spared it. According to legend, this happened because a young woman from Dinkelsbühl - the Kinderlore - gathered the children of the town behind her and begged Obrist Sperreuth for mercy at the last second - successfully! Even today, therefore, the festival "Kinderzeche" is celebrated annually in July in Dinkelsbühl.
The "Pikeniere"
A Swedish group of the "Kinderzeche" is the group of the "Pikeniere", to whose member (formerly active, today passive) belongs the owner of Hotel Haus Appelberg Matthias Osterhold. A thanks to the "Pikeniere" for the admission. Especially at the "Kinderzeche" but also on some other days you can meet members of the Kinderzechgruppen in the evening restaurant or at the bar.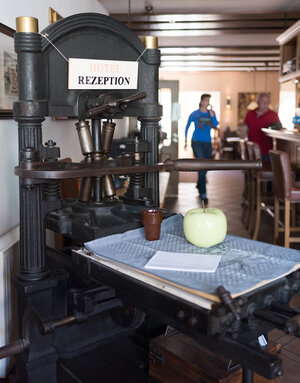 A letterpress as a reception
There is a rare letterpress in the breakfast room, where we will be very happy to welcome you.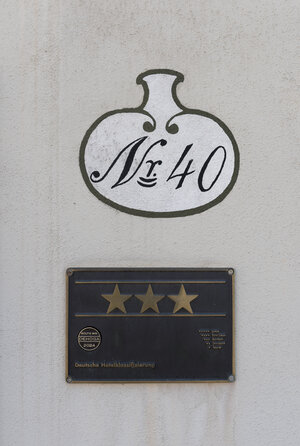 3 stars shine
For more than 10 years, the Hotel Haus Appelberg has been awarded 3 stars of the German Hotel Classification. The last follow-up classification took place in the middle of the "corona pandemic time" in 2021 and resulted in a stable 3 stars again. We are proud of it.
As personal and cozy as we love it ourselves, we try to run and design the Hotel Haus Appelberg. Thanks to our great team of employees, without which many things would not be possible.